Love massage? We make it easy!
Enjoy the benefits of therapeutic massage in the comfort of your own home. No need to travel out in cold, rainy weather or arrange a child-minder. We come to you.
Don't wait till pain or stress becomes a problem. With a fixed appointment each week or fortnight we will help you stay in shape and feel great.
After your therapist leaves, you can prolong the relaxation by staying comfortable at home. Rest with a cup of herbal tea, laze in the bath or go straight to bed for a rejuvenating sleep.
Regular home massage benefits include:
Reducing back and neck pain
Improve posture and flexibility
Enhancing your training and post-exercise recovery
Coping with stress better
Sleeping more soundly
Enjoying better health and a greater love of life.
Services and therapies we offer in your home
Prices start from $130/hr. See our full rates at the bottom of this page for all prices.
Relaxing massage
A gentle massage to help ease stress, anxiety, poor sleep. Focusses on loosening the body while you drift into an easy state of relaxation.
Remedial massage and sports massage
A deeper pressure massage that works on your specific areas of tension, pain or injuries. Great for post exercise recovery, improving posture and relieving sore backs and headaches from hours at a computer.
Pregnancy massage
Fantastic relief for aching backs, sciatic pain and tiredness. Calm mums equal calm babies. This massage is done in a safe side-lying position with pillow bolsters for comfort or a belly cushion for face-down position (on request). A great gift for expecting mums!
(Please note you need to be in trimesters 2 and 3).
Post natal massage
A rejuvenating massage for new parents. Book a home massage while your new baby sleeps. A convenient therapy for aching bodies of weary new parents (yes, tired Dads are most welcome too!).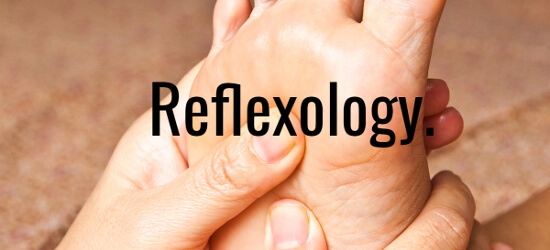 Reflexology
An amazing treatment of the feet that uses specific pressure points on the feet that works the whole body. Deeply relaxing and a helpful therapy for: stress, insomnia, digestive issues, hormone balancing, and many other health complaints. Enjoy as a whole treatment or include as part of your 1.5 hour massage with our reflexology therapists.
Aged care and disability massage
Several of our massage therapists are trained in massage for people with special needs. We use a gentler style of massage, whilst taking into consideration any limited movement, medications and current medical issues. The therapist will use a regular massage table if mobility allows, a lounge-chair or the person's bed. A beautiful therapy to improve well-being, circulation, flexibility, as well as providing company for people who are housebound or limited in travelling to see therapists.
Oncology massage and lymphatic drainage
A specialised and gentle massage to encourage a state of calm and healing to help you cope with the effects of cancer and the demands of medical treatment. This massage is not a medical procedure but rather it is complement to other treatments. Lymphatic drainage is a specific treatment that can alleviate swelling that may result from some cancer treatments or other conditions.
Hotel visit massages
Make your overnight stay even more luxurious with an in-room massage. Choose from relaxing or remedial styles then continue to unwind after your treatment without having to leave your room. Our therapists always use towel drapes and the massages are a therapeutic and non-sexual style at all times. We appreciate you showing respect to the practitioner by adhering to our safe practices and industry standards. Additional parking fees may apply if visitor parking is not available on-site.
How much to enjoy massage in your own home?
Weekly, fortnightly and monthly bookings
$120/hour and $160/1.5hours.
Couples massage (1 therapist) $240/2 hours and $300/3 hours.
Couples massage (2 therapists) $240/1hr each and $320/1.5hr each.
Prioritise your health with a regular massage booked each week or month to provide respite and self-nurturing in your busy life. We'll provide you with the same therapist each time so they'll get to know your preferences and you can relax and further enjoy your treatments.
Special occasion, once-only and gift vouchers
$130/hour and $160/1.5hours.
Couples massage ( 1therapist) $240/2 hours and $300/3 hours.
Treat yourself, a friend or your partner to their own day spa experience at home. Perfect for birthdays, anniversaries, holiday house stays, after-sports events, or special treats when you need some time out to unwind.
Terms & Conditions
Preferred method of payment is by cash or direct deposit; bank transfer details will be emailed with your invoice.
We also accept Credit card and PayPal payments.
Health fund rebates are available with most of our therapists and treatments. Please let us know when you book.
Parking fees will be charged if no-onsite parking is available and additional travel charge of $25/half hour travel for out-of-area suburbs. See our About page for suburbs we service.
We also bring home massage to you at holiday homes, hotel stays, nursing homes and villas.
We require 24 hours notices for most bookings but we always do our best to find a therapist for you at shorter notice. Or book in weekly or monthly treatments and never miss out on a massage again when you need one.

Our massage therapists use their own transport to and from massage bookings. Therefore we ask for a minimum of 2 hoursa notice to make a change to your booking or to cancel a booking. If less than 1 hour's notice is received, 100% of the massage fee will be charged to the client.